Quality
__________________________________________________________________
Quality Policy
Strategy: gaining a leading position in the Russian market of fasteners and springs for automotive industry and increases in supplies of fasteners and springs for aviation industry, special and general engineering.
The cornerstone of the Policy is to achieve high customer satisfaction by meeting its requirements and striving to exceed its expectations.
The main goal of our activity is to ensure the competitiveness of our products.
Conditions that need to be met:
- search and use of opportunities to expand markets;
- risk management affecting the effectiveness of QMS;
- compliance with mandatory legal requirements and customer requirements and striving to exceed them;
- focus on prevention of non-conformities in product design and manufacturing processes using APQP and ANPQP processes;
- cost reduction, including non-conforming products;
- application of progressive and improvement of existing technologies;
- modernization of production;
- demonstration of leadership and commitment of managers at all levels to ensuring product quality;
- continuous staff training and development;
- involvement of all staff in continuous improvement activities;
- development of suppliers and building relationships based on mutual cooperation to ensure timely delivery of quality materials.
Top management of AO BelZAN takes responsibility for QMS effectiveness and its continuous improvement, provision of necessary resources, involvement and assistance to employees in implementing the Policy.
___________________________________________________________________
Certification

Management system of AO BelZAN and its affiliated companies ZAO Belspring and OOO BelZAN MET is certified against the requirements of international standards ISO 9001:2015 and IATF 16949:2016.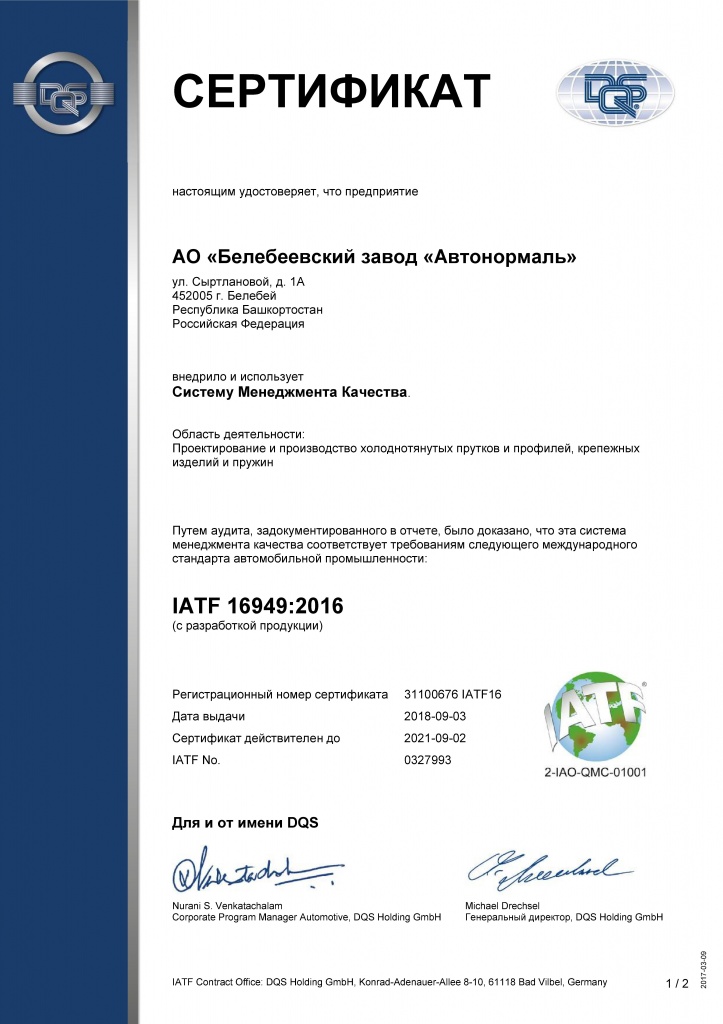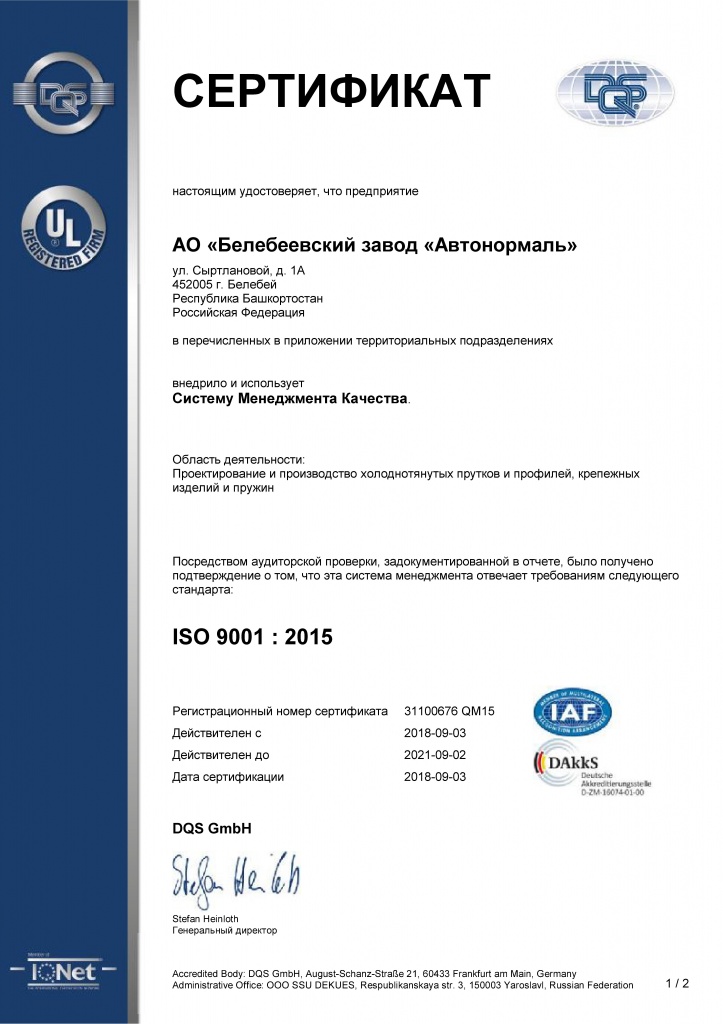 In June 2017 specialists of ZAO GM-AVTOVAZ audited AO BelZAN against special GM - QSB requirements (Quality System Basics).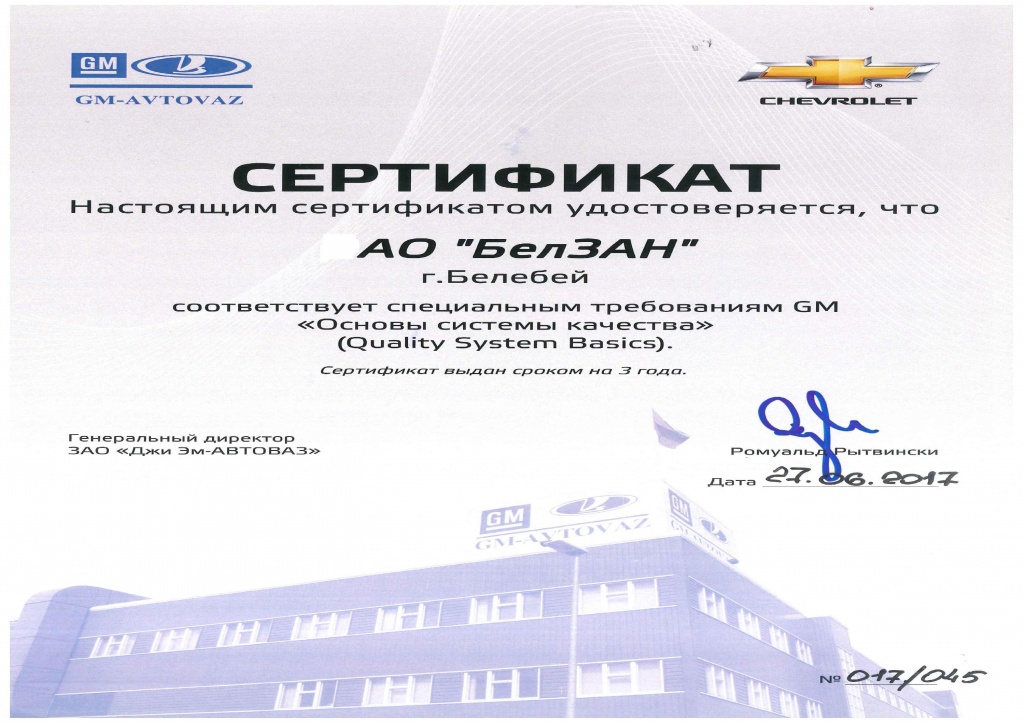 In April 2016 AO BelZAN had a compliance assessment to ASES requirements; it confirmed compliance with Renault-Nissan-AVTOVAZ requirements. The company was assigned C rank.
In April 2018 AO BelZAN had a re-certification audit. Its results confirmed compliance of AO BelZAN QMS with the requirements of GOST R ISO (ISO 14001:2015).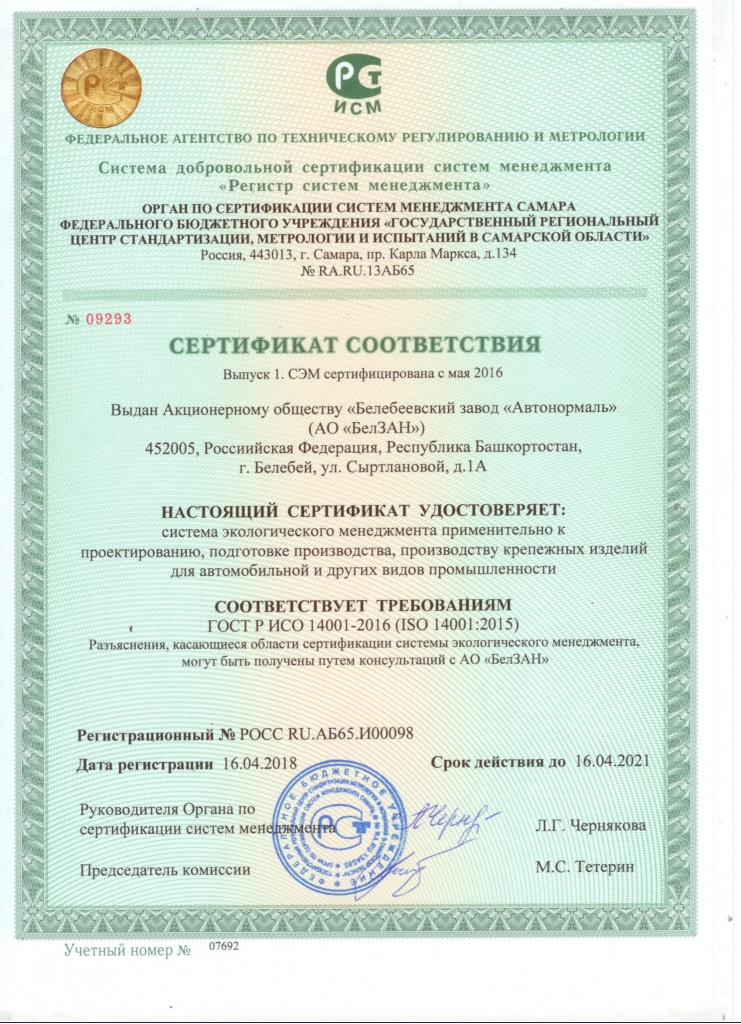 Aviation inspection
In July 2015, specialists of AO Aviatekhpriemka conducted an assessment. A representative office of Technical Inspection No. 56 (TP No. 56) was opened at AO BelZAN.

Bridge Inspection
In July 2017, specialists of OOO Mostovaya inspektsia (company specializing in bridge inspection) evaluated a compliance of manufacturing process of high-strength fasteners with GOST R 52643, GOST R 52644 and GOST R 52645. After resolving all complaints made OOO Mostovaya inspektsia opened a representative office of bridge inspection number 156.

Participation in Kortezh project
In July 2015, specialists of NAMI Federal State Unitary Enterprise audited AO BelZAN QMS and confirmed possibility of AO BelZAN participating in Kortezh project.